Contact Us Now for your FREE Consultation! (864) 233-2000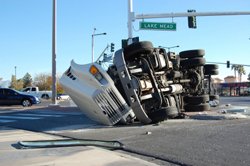 Tractor-trailer accidents can be some of the most devastating accidents a person can encounter. The sheer size of the vehicle generally means that your vehicle is totaled and chances are that you will suffer serious to catastrophic injuries.
The legal and medical dimensions of managing one of these cases are immense and require knowledgeable attorneys. There are time requirements in these cases as well as interstate and federal law issues. You must hire counsel as soon as possible in order to properly address the many aspects involved. Mr. Gagné and his assistant counsel have the experience and the tenacity to be there for you from initial medical evaluation, through recovery to future medical and financial needs.
Don't take chances with inexperienced lawyers. Call the Attorney Offices of Thomas Gagné, P.A. today by calling (864) 233-2000 in Greenville or (864) 591-1114 in Spartanburg.