Contact Us Now for your FREE Consultation! (864) 233-2000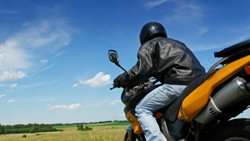 Cars hit motorcycles all the time, mostly because car drivers do not take the time to carefully look for them.
Owing to their difference in size compared to cars, motorcycle wrecks can be especially damaging to a person. These are usually large and complex cases because of the amount of money involved and the technicalities of motorcycle riding. They require a lawyer with experience.
At the Attorney Offices of Thomas Gagné, P.A. we have handled many motorcycle wrecks over the years, obtaining hundreds of thousands for our clients.
As a biking enthusiast, Mr. Gagné knows how important it is to get back to riding as soon as possible.
If you have been injured in a motorcycle wreck, call us immediately for a free consultation at (864) 233-2000 in Greenville, and (864) 591-1114 in Spartanburg. Do not delay as evidence disappears and memories become hazy.
††Client will be liable for any expenses in addition to the fee. Fee will be computed "off the top" before deducting expenses.